Did you know that landscaping increases the value of your home?
A professional landscape enhances the curb appeal of your home making it much more appealing to potential buyers. Even if you are not planning on selling your home, the investment of landscaping will provide years of outdoor enjoyment allowing you to really get the most out of your home.
For many people, the very thought of landscaping their home is stressful. This is especially true for those who are looking to do a little more than just the add a few plants and trees. The fear of having to hire several different contractors that may or may not show up can result in second thoughts or the decision to put things off until "next year" .
We don't just understand these feelings, we've built our company around them. We believe that every customer should not only enjoy the benefits of a beautiful professional landscape, but that it should be a completely enjoyable experience.

Ultimate Landscaping Quick Links
Our Process
These are some of the ways that we can make this possible.
First, we take a picture of your home, then using computer generated images, we can completely landscape your home almost instantly. You will see exactly what the finished job will look like before we even begin work. This saves a tremendous amount of time and allows us to get your job started a lot sooner. In the past, contractors would sketch a landscape with a pencil and paper which was not only time consuming, but it just didn't provide a very good visual for the customer.
This method was not versatile enough to allow customers to change their mind about where and what should be placed in the design process. With the computerized method, there is no question of what the finished landscape will look like and it puts the customer in control, because while we are professional landscape designers, we feel that you should be a part of the design process.
Call 732-505-4074 today and schedule your free in-home consultation, and leave the rest to us.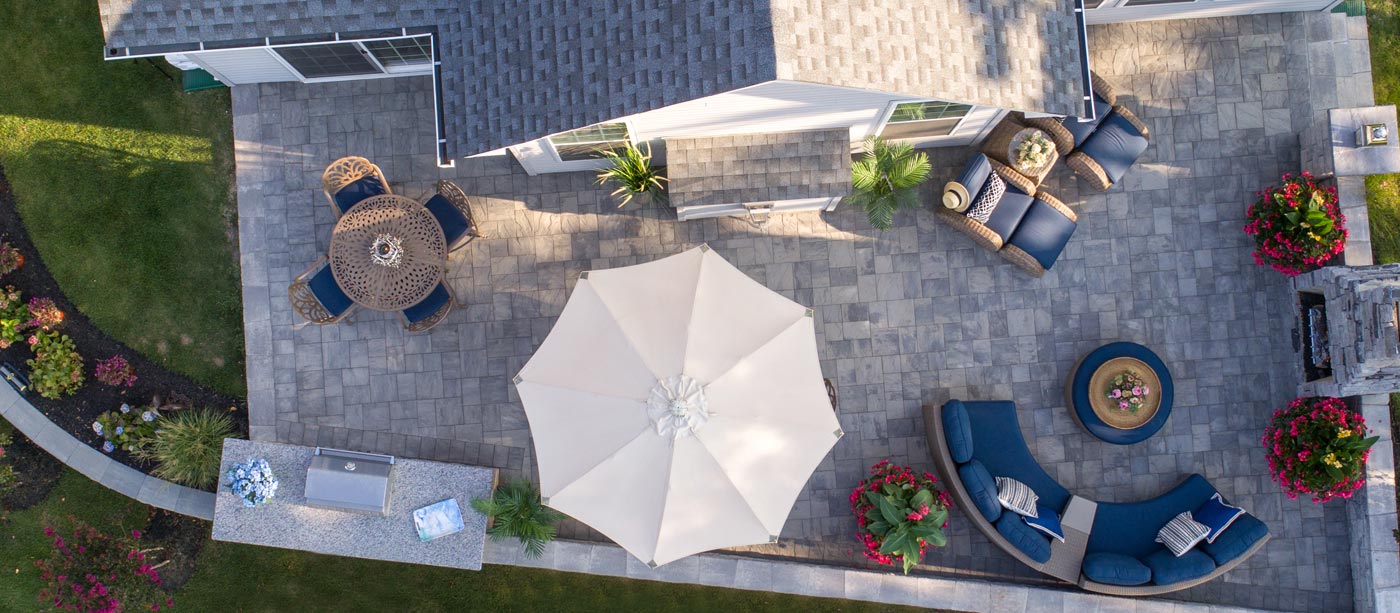 Ultimate Landscaping Can Handle
All Aspects of your Project.
If your new landscape involves a sprinkler system, pavers, waterfalls or ponds, lighting, or decorative walls or curbing, we are your only phone call. We can put together a custom landscape package that includes everything you need…in one company. So many landscape projects are held up for months while one contractor waits for another to show up. This causes confusion, frustration and can become costly. By providing all of these services together, we can help you to better enjoy your experience with us, while saving you stress and unnecessary spending.
What Our Clients Are Saying
I has tried to contact my usual company to winterize the system, who did not reply to numerius calls. Ultimate Lawb Maintenace & Lanscaping came out the same day and completed the task. It is difficult to evaluate the pricing because they only did the close – relative to the open and close fee for the other company it was high but the job was done.
Damon and his guys did an outstanding landscaping for me !!!!! It looks better then the computerized presentation. Highly recommended. Thank you Damon.
Damon and his crew were prompt, punctual and professional. The shrubs, trees and sod they used were of good quality and Damon's landscape design for our home exceeded our expectations! Can't say enough good things about Ultimate Landscape! We plan to have him back for more work as soon as we can.
Damon was quick to respond to my need for front and side landscaping of my recently purchased ten year old house that had never been landscaped. He prepared an excellent design on his laptop and intalled true to the design with his helpers Kevin and Nick less than two weeks later.
Damon primed my pump, checked to ensure all sprinklers were in working condition, and performed maintenance on the sprinkler heads; this was a week after another company was unsuccessful in priming the pump. Damon is honest, knowledgeable, and professional. I will continue to give him my business, both for my semi-annual sprinkler maintenance and also for his landscaping capabilities. I trust him, and his prices are fair and reasonable. Don't hesitate to hire him!
They did a great job, Was out of my house last year for 6 months and then the horrible winter did a toll on my landscaping. They came in, ripped out the dead/ugly stuff, planted new bushes, mulched and cleaned up everything. My house looks great again! Thanks!